Backward Society Education (BASE) Inclusive Resource Management Initiative (IRMI) World Environment Day: 5 June 2015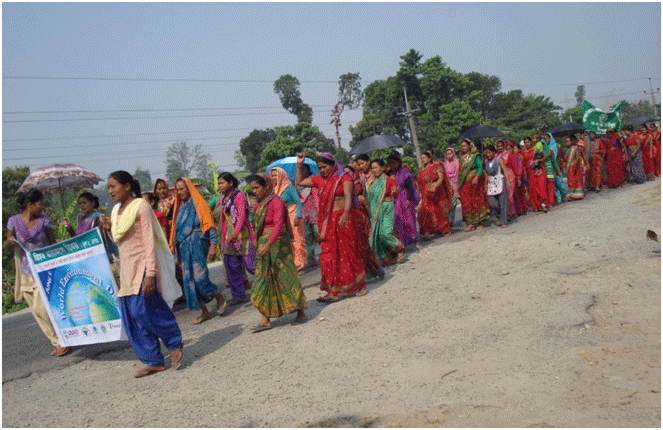 World Environment Day (WED) has been celebrated on June 5, 2015 to spread global awareness among the inhabitants of earth regarding mother nature in Dang, Bardiya and Kailali with the theme; Seven Billion Dreams. OnePlanet. Consume with Care emphasizes that personal responsibility each one of us bears for enabling inclusive and sustainable economic development while stabilizing and reducing the rate of resource use. This will support to start making changes from household /community level to national level and will contribute to the global level effort.
In Kailali the day was celebrated in Hasuliya VDC hall led by BASE. There was participation of BASE, CFCC Hasuliya and Transparency Cooperative.There were 150 (80 F, 70 M) participants from 22 CFUGs representatives, political parties, ward Citizen Forum and Media as well. Local dances, awareness raising songs about environment were undertaken in the meeting. Similarly in Suryodaya CFUG, the day was celebrated where 184 (30 M, 154 F) participants from Gwasi Mahila CFUG and Suryodaya CFUG participated. Rally was performed there and the rally converted into corner meeting. In Bardiya the day was celebrated in Jharsaluwa CFGU Bagnaha, Bhadohi Mahila CFUG Mainapokhar and Kopila CFUG Neulapur. In Bhadohi Mahila CFUG interaction was undertaken. Assistant Forest Offier from Sector Forest Office, Kausalendra Shah oriented to the community people about the climate changes and its effect where 32 (20 M, 12) Female participated in the orientation. After orientation 16 plants were planted by the community people and they committed to plant at least 5 plants at around their houses. In Jharsaluwa Bagnaha , Ranger, Gunjan Gahatraj , oriented about climate change and its effect. 35 (21 M, 14 F) people participated in the orientation. After orientation community people planted 50 plants in the forest area. In Kopila CFUG, Nuelapur, it is celebrated. In Bardiya in the leadership of FECOFUN, the day was celebrated in district level in Rajapur area jointly. There was participation of BASE, FECOFUN, Sonaha Development Samaj, Kaimaiya Mahila Bikas, CARE, Hariyo Ban. There were about 1400 representatives from CFUGs and other organizations participated in the celebration. The cultural competition and awareness raising songs were taken place.In Dang the day was celebrated in Viedharsonpur CFUG Pawananger. There was participation of 65 (25 M, 40 F) CFUG members in the celebration.