Economic Empowerment through Skill and Entrepreneurship Development (EESED) project
Background: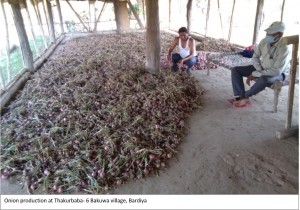 Economic Empowerment through Skill and Entrepreneurship Development (EESED) project is being implemented at Thakurbaba and Barbardiya Municipality of Bardiya District by the financial support of Lutheran World Relief (LWR). This project began since 1st October 2018 to 30th Sept. 2020 choosing 230 youths. It prioritizes to increase economic competitiveness through entrepreneurship focusing to unemployed, marginalized, committed and interested youths enhancing their skill on Tailoring level 2, cultural homestay, commercial banana, onion, and turmeric production. In order to select those rural youths for such entrepreneurship representatives of local government, ethnic leaders/Barghars and BASE board members have been mobilized designing selection criteria. To achieve this motto, regular consultation and coordination with concerned stakeholders such as Municipalities, financial institutes, Agriculture Knowledge Centre, Ethnic leader/Barghar, BASE Board members and community people is being made.
The main objective of the project:
a) To enhance market-oriented skills for employment
b) To develop capacity of targeted youth on easy access to financial services
c) Improve market access for selected high value crops.
d) Improve youth's application of fundamental business management skills to agriculture
Major activities:
Selection of beneficiaries.
Training on Tailoring (Level -II )
Homestay Business to support on "Cultural Village Concept" training
Banana, Onion and turmeric Commercial farming training
Banana, Onion and Turmeric seed support to the beneficiaries
Support in enterprise registration & accessing loan to start beneficiaries own business related to their vocation
Turmeric processing plant establishment
Contract management agreement between youth and institutional buyers
Branding and packaging training
Basic accounting, book keeping and agriculture business plan making training
Multi-Agriculture Cooperative establishment
Coordination with relevant government entities and private insurance service providers
Major Achievement:
Out of 20 youth beneficiaries 18 youths are running their Homestay business.
20 youths are running Tailoring Level2 Business.
22 youths are producing banana on 84 kattha of farm (2 beneficiaries were only supported providing banana saplings during plantation time).
75 selected youth farmers and other onion seed supported 146 farmers have produced 60345 kgs of onions on 330 kattha of farm.
75 selected turmeric youths have planted turmeric on 270 kattha of farm.
Technical support delivering commercial training on onion and Turmeric is being carried out by Agriculture Technical Staffs of Agriculture Branch of concerned local government.