BASE ORGANIZATION INITIATES MEDICAL CAMP FOR THE CONTROL AND PREVENTION OF COVID-19 PANDEMIC IN DANG DISTRICT, NEPAL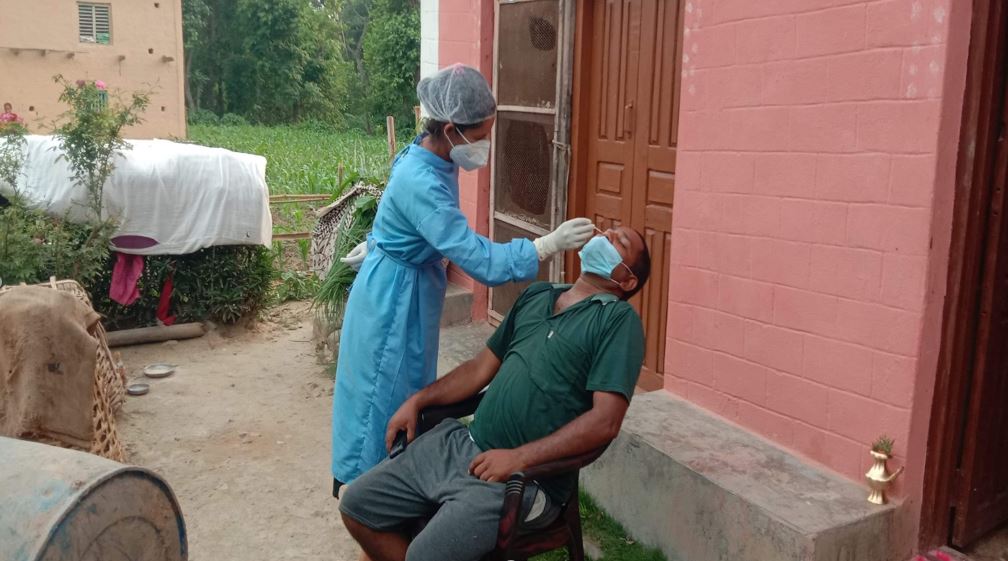 A second wave of the coronavirus pandemic is sweeping across the country, and this time there are several transformed virus variants, considered more infectious and deadlier, fuelling the infection as well as fatalities. Nepal's heath system cracks under the strain of rising covid-19 cases and Dang district has been one of the most affected districts being counted in red zone of Covid-19 pandemic. In this critical situation, BASE organization has come up with the campaign to support the initiatives of the local governments in Dang district.
In order to provide basic health assistance to the village people, BASE has started mobilizing a medical team by ensuring all safety measures of six health workers led by the doctor Mr. Rajeev Jha. Through an intensive consultation with the health personnel, journalists as well as local government especially Mayor of Tulsipur sub-metropolitan city, Mr. Ghanshyam Pandey, BASE has started a Medical Camp from today 27th May, 2021. Mr. Dilli Bahadur Chaudhary, Founder president of BASE and Member of Parliament along with BASE's senior team joined this camp to see people and understand their situation in Tarigain today.
This medical camp aims to provide medical counseling and basic health inspection of the people living in the villages those are hiding the infection of Covid in spite of similar symptoms in the fear and lack of confidence of treatment and cure. People are trying to keep their disease confidential for not getting ignored from the neighbors and society. Therefore to give positive messages and empower people to build their confidence to fight against this infection, this camp has been initiated which has been able to visit, counseling, examination and medicine distribution to 26 (14 female and 12 male) people of Tarigain on the starting day today. Among them 22 people were found struggling with different types of symptoms to Covid-19 but not having access to PCR tests. Rest of the 4 positive detected from PCR test patients were at home isolation. During the medical checkup by the team 14 people found to be above the age of 50 years, 14 people between 20-49 years and 1 of 19 years. Out of the 53 people we visited today about 50% were found with the symptoms but they have not got their PCR test as the lab for this test is available in only at District headquarter in Ghorahi.
All of those indigenous people are perceiving various types of symptoms of Covid-19 since last 20 days. The medical camp has examined all the infection suspected people along with counseling and giving information about PCR test and precautions to be applied to keep themselves safe and strong for getting rid of the infection of Covid-19. They have also been distributed with necessary medicines for controlling fever, cough and increasing immunity. This mobile camp started from Tarigain, Tulsipur will reach to the other most affected rural municipalities and villages. BASE is also ready to provide free ambulance services to rescue severe Covid infected patients to refer to the hospitals for concentrated treatment.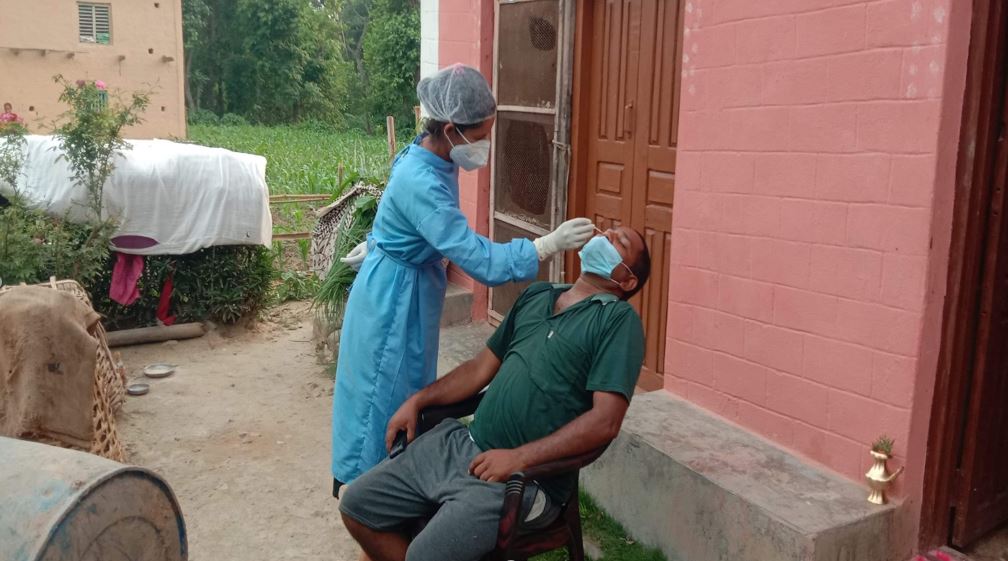 From the villages and people we have visited today, the infection looks to be huge and rapidly transmitted in the indigenous and marginalized communities that need to be controlled timely otherwise it may go terrific and out of control. While looking at the numbers of infections, we require additional medical team with number of health workers to mobilize in the villages to cope and encourage people for saving them from this pandemic. Most importantly people need to get PCR tested for which government should take urgent actions by making easy access of the test to our people. People are in dire need of counseling as well as proper guidance to keep up their confidence for fighting against this pandemic. So to people aware and keep them safe in their homes is BASE's attempt in which we urge for solidarity of the local government, donor agencies, stakeholders, communities and journalists. Please do your bit to join our hands to overcome this misery of the pandemic taking away lives of our people and hindering development of the country.
For checking news coverage please visit following links;
nepalayankhabar.com/2021/26448
epradeshtoday.com/2021/06/08/news