Case Stories of the victims of Covid-19 and affected families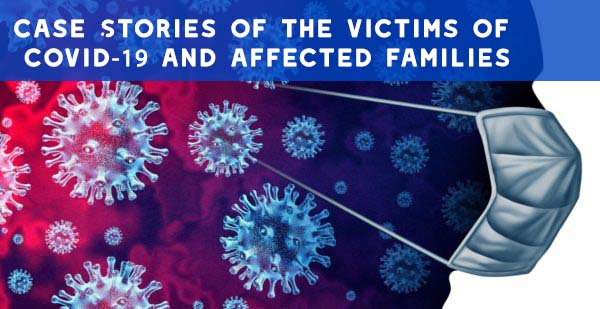 BASE organization has collected case stories of the families those have been directly affected by the pandemic of Covid-19. These stories belong to the disadvantaged and marginalized communities those have lost their family members and are facing challenges to livelihood, psychosocial as well as educational management. Following government's protocol, the identification of the dead person and families have been kept confidential. We are sharing these stories for they are in need of urgent support.
Case story 1.
Mr. XXX, resident of Tulsipur sub-metropolitan city, ward-11, Jashpur was working in India as a Cook at a restaurant for many years. He was away from his family with two children and wife for earning money. A wife, Mrs. XXX, aged 40 years has been alone now for her husband left her for always. Since the lockdown was imposed in India and Nepal, Mr. XXX returned back to home. While returning back he got infected positive to Covid-19 and passed away before a month and half. After his death, the family is grieved and facing crisis to manage their living. Because he was the only income generating person of the family.
The older daughter is studying in 12th grade and younger son is in grade 6. They have nothing else more than a house and kitchen garden. Mrs. XXX is completely worried about her children's' education for she is unable to manage the cost for their studies. Even in the coming days, she will have to bear hardships in maintaining all her economic problems. Demise of the head and the earner of the family has created big financial crisis in the family.
Case story 2.
32 years old XXX, resident of Tikapur was running his family doing Stitching profession. He was responsible to look after his family. But on 15th May 2021, he died due to Covid in Tikapur hospital.
There are one son and one daughter in his family. His demise has brought big crisis in the family. Now his family has only house they are living on, except that they do not have other property or land. His wife works as a laborer on daily wages that is not sufficient for the family and also due to the lockdown she can't get work regularly. The old aged parents are also together with the family. So, now his wife has to take the responsibility of the family members which is quite difficult for her to handle family and livelihood alone only with her earning.
Case Story 3
Mr. XXX who died due to COVID-19 was 52 years who lived in Tulsipur Sub-metropolitan city, ward no. 8, Katkuiya village. He had been handling his family doing daily wages as a laborer. His wife Mrs. XXX, son, daughter-in-law and small grandson are in his family. In the name of property he has only 0.04184 acre (10 dhur) land. After his demise from Corona, it has been very difficult for the rest 4 members of his family to manage livelihood needs. Even due to lockdown the members are unable to work on daily wages neither have other income source. Thus, the family is going through hardships with no any earning in the family during this pandemic situation of Covid-19.
Case story 4.
32 years old Mr. XXX is the resident of Tulsipur sub-metropolitan city, ward no. 11, Nawalpur. Unfortunately, his wife Mrs. XXX passed away from COVID-19 in April 30, 2021. He has 4 years old son and 6 years old daughter in his family. He has only 0.08368 acre (1 kathha) land as his property. He had been looking after his family being engaged in driving profession. Some of the savings was spent in his wife's medical treatment. But due to the lockdown he is jobless as transportation has been halted and now he doesn't have any other source of income. The another big problem he is going to face is to take care of his children when he will go away to work as they are still small to take of themselves. He has no other family members to take care of them. With his heavy heart and pain, he says, "If I don't continue the job I will not be able to feed my kids and when I go to work who will look after them."
Case story 5.
Family of 45 years aged, Mrs. XXX resident of Tulsipur sub-metropolitan city, ward no 12 is going through painful tragedy for losing two of the members from her family from COVID-19 infection. Husband Mr. XXX, aged 48 years and Elder Son Mr. XXX, aged 27 years have passed away between 12 days difference. This pandemic has taken away two members of the family keeping two widow wives and orphan children. There are total eight members in the family including four children aged between six months to three years respectively. The family has lost earning members which has now put them in to economic crisis that they have not been able to admit their children in to schools. Only one younger son is working in a cloth shop whose income is insufficient to cover all the expenses of family needs. This family has not received any support yet. They are in dire need of income generating support to manage their livelihood.