Celebrating 16 days campaigning against Gender Based Violence
BASE
December 7, 2016
106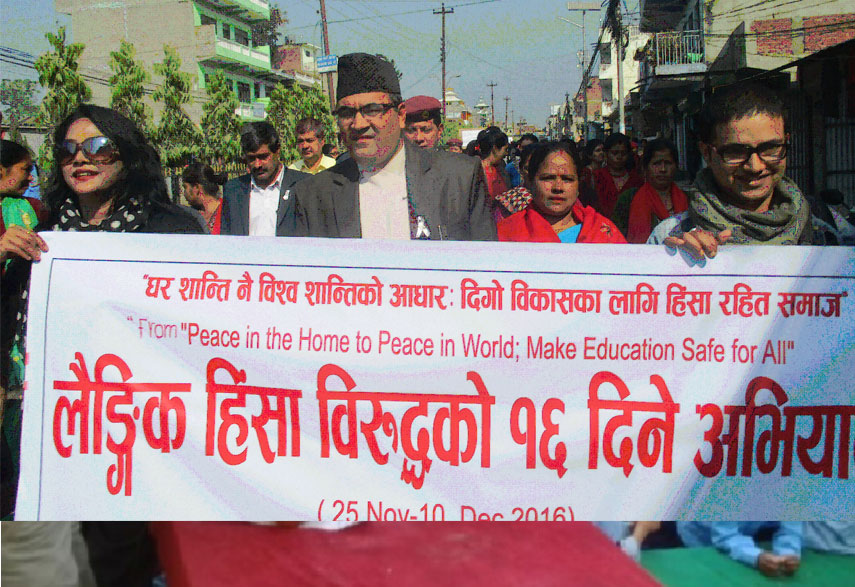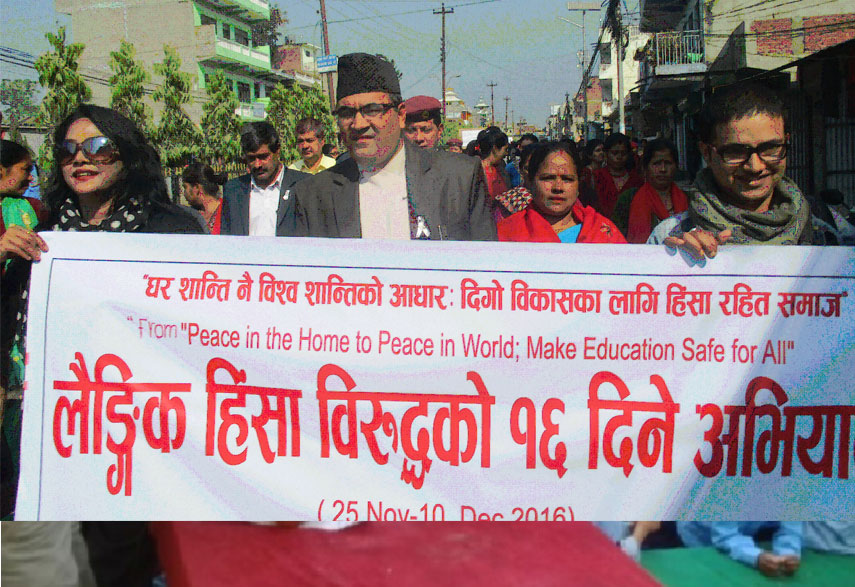 BASE with international slogan "Peace in the Home to Peace in the World; Make Education Safe for All" has been effectively rejoicing 16 days campaigning against gender based violence in Dang district with different actions to empower communities for stopping violence against women and educate them about gender discrimination. This campaign is distinguished in coordination with district and VDC stakeholders. The campaigns with rallies, play cards were organized at Municipality and VDC levels to alert and inform communities for respecting women and stop violence against them.
The first formal event of 16 Days campaigning against Gender Based Violence has been organized on 25th November 2016 in Ghorhi Dang. Chief District Officer, Mr. Deepak Kafle chaired the program. The celebration was conducted in coordination and collaboration with different government and non- government organizations. An interaction program was held among the guests that was focused and concluded with that education plays vital role to reduce women violence and discrimination. Approximately 150 people participated in the program among them 125 were female and 25 were male.
In December 4 Constituent Assembly members, Security forces personnel, Human rights defenders, political leaders, traders, civil society members and journalists joined the formal interaction program by keeping their opinions at Chamber of Commerce's hall of Tulsipur Municipality. The program was chaired by Mrs. Sushma Giri (President of Mahila Manav Adhikar Rakshya Sanjal, Dang). And the chief guest was Honorable CA member Anarkali Miya. Likewise, guests were; Mr. Binod Pandey- Brigadier General of No. 19 Brigade, Mr. Dhiraj Pratap Singh – Superintend of Police from District Police Office as well as political parties representatives and journalists.  The chief and guests addressed the program and commitments to contribute for stopping violence against women and gender discrimination by ensuring peace at home and safe education for all in Dang district. Total 130 people participated in the interaction and among them 75 were female and 55 were male.
Similarly several other formal programs were carried out in other working VDCs of Dang district from December 1st to 5th, 2016 where as more upcoming events have been planned. The campaign will be held until December 10, 2016.
The accomplished events details of the campaign are as following;
| | | | | |
| --- | --- | --- | --- | --- |
| S.N | Date | Venue | Activities | Collaborated Organizations |
| 1 | 25 Nov., 2016 | Ghorahi | Rally, Interaction, | Ghorahi Municipality, DPO, DWCO, DLSO, WOREC |
| 2 | 1 Dec, 2016 | Srigaun VDC | Rally, Interaction-Women rights and girls trafficking | BASE, WOREC, Nepal Red cross, CeLLRD, Jagrati Mahila Samudiyak Sanstha and VDC |
| 3 | 2 Dec 2016 | Lalmatiya VDC | Rally, Interaction on Adolescences Education | BASE, Bhirkuti Mahila Bachattha Rin Sahakari Sansths & VDC |
| 4 | 2 Dec 2016 | Phulbari VDC | Interaction- Women Violence and its effect and challenges | BASE, WOREC & VDC |
| 5 | 4 Dec 2016 | Dhikpur VDC | Rally, Song Competition on women issues and Interaction on Women present issues | BASE, Chetana Jagaran Mahila Bikash Sahakari Sanstha, CeLLRD& VDC, Sajhedari Bikas Partners |
| 6 | 4 Dec 2016 | Bijauri VDC | Interaction –Reproductive rights and women health | BASE, Mahila Sanjal & VDC |
| 7 | 4 Dec 2016 | Hapur VDC | Rally, Street Drama against Women Violence and Interaction | BASE, Tripur Muncipality & RLG |
| 8 | 5 Dec 2016 | Narayanpur | Rally, Street drama and Interaction | BASE, Tripur municipalit, Sarbashewari Mahila Sahakari Sanstha & SB Partner |
| 9 | 5 Dec 2016 | Laxmipur | Interaction GBV & DV | BASE, Junali Sahakari Sanstha Mahila Sanjal & VDC |
| 10 | 4 Dec 2016 | Tulsipur | Rally, Interaction- Women Violence and challenging to control it. | BASE, WOREC Nepal, Mahila Manahav Adhikar Rakshyak Sanjal Dang, Nepal Red cross, Mahila Adhikar Manch, Civil Society Dang, Dalit Mahila Sangh  Shanti Mahila Samsad, Nari Jagaran,SEED Sanstha Regional  Dialogue Group etc. |